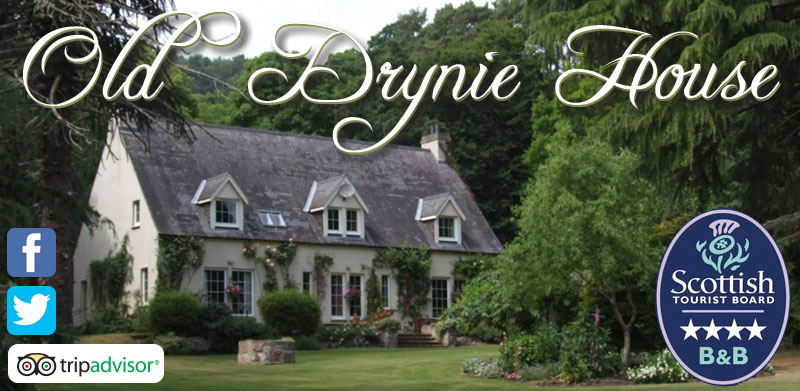 If you stay in a Bed and Breakfast near to Inverness you have the best of all worlds. A central base from where you can make day trips to visit all areas of the Highlands, yet the facilities of a small friendly modern city are available within 10 minutes for meals and evening entertainment.
Inverness is famous for the upmarket Bed and Breakfast establishments available and is a favoured destination for tourists. The Loch Ness Monster, romantic castles such as Urquhart Castle and Cawdor Castles and the breathtaking scenery draw visitors galore.
The Hosts at Old Drynie House, (a fantastic Bed and Breakfast near Inverness), will help you to make the most of the time you spend in our wonderful part of the world.
Inverness, (which is the capital of the Highlands), is the ideal base for exploring. The Cairngorms with its National Park and the Whisky Trail to the south and east, fascinating interactive museums such as the award-winning Cromarty Courthouse, spectacular sights like the Falls of Shin in the north or the Torridon Hills in the west all cause sightseers to tarry.
To do justice to the area we would urge visitors to spend several days soaking up the atmosphere and getting to know the area a little. The Kessock Bridge crossing the Moray Firth brings travellers to the green and fertile Black Isle with its lovely walks, a striking contrast to the staggering, though stark beauty of the west. The road to Applecross has recently been named as one of the great road experiences, alongside the likes of Route 66!
Click here to visit the Web Site for Old Drynie House, one of the area's highly praised bed and breakfast establishments.
The images in the slider are from the following websites.
www.inverness-scotland.com
www.nessie.co.uk
www.cawdorcastle.com
www.historic-scotland.gov.uk
cairngorms.co.uk/
rbtaxis.co.uk
cromarty-courthouse.org.uk
panoramio.com
torridonmountains.com/
www.moraydolphins.co.uk
www.scotland-flavour.co.uk
www.applecross.uk.com